FashionTech Icons:

The Zipper
There are some technologies we use every day and don't even realize how much of a breakthrough they were at the time they were invented. The reason is because they're so simple and practical that we incorporate them in our daily lives without recognizing them as technology.
Try to picture this scene: you're slipping into a jumpsuit for a designated work task. You need to be safe for the job, and very quick. Oh, and you're alone, too. What would be the ideal way to close your jumpsuit? Buttons? Straps? Or a zipper?
It's difficult to imagine our lives without zippers, a simple device that makes us faster without any compromise to the design. Sometimes, a zipper can be an interesting style improvement. We can find zippers on trousers, jackets, backpacks, purses, tents, sleeping bags, suitcases and on more complex clothing like spacesuits, hazmat suits, and scuba diving dry suits. Zippers are everywhere, and you're probably wearing one right now!
How The Zipper Was Invented
The creation of the zipper was a long and drawn-out process, involving many different inventors, patents and multiple iterations until it finally became the zipper that we know and love.
Whitcomb Judson is credited as the Father of the Zipper, 42 years before he invented the "Clasp Locker". Elias Howe received a patent for the "Automatic, Continuous Clothing Closure" in 1851. Howe's device was more like a drawstring rather than a slide fastener, but still, he was pretty good at inventing things. If you check his Wikipedia page, you'll find another great invention of his in the fashion industry: the sewing machine.
Judson's device was a lot more complicated than Howe's, and included a hook-and-eye shoe fastener. He debuted it at the 1893 World's Fair in Chicago, where it received very little fanfare. He later opened his own company, the Universal Fastener Company.
A man by the name of Gideon Sundback started working for Howe, and a few years later, he improved upon the Clasp Locker and received a patent in 1917 for the "Separable Fastener." And it is from there that we can trace the roots of the zippers that we use today.
The Zipper in Fashion
The first high fashion designer to use the zipper was Elsa Schiaparelli in 1935. Commissioned by Harry Houghton of the Lightening Fastener's Canadian division, the collection was created to promote the fastener among the fashion industry. Schiaparelli added zippers all over her pieces, even in places with no need to be zipped, using them as a fetish accessory–not exactly a functional element.
The Hollywood actress Rita Hayworth reinforced this fetishism around the zipper, using it on the scene as a provocative element part of her performance as the unforgettable Gilda, in 1946.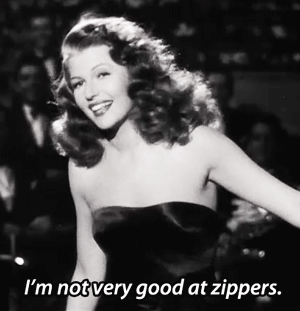 But zippers weren't used on clothing until 1925. Before this, their main use was for closing boots and tobacco pouches; one day, Schott NYC decided to apply it to the Perfecto leather jacket. Years later it was part of the "rebel" look with Marlon Brando and James Dean, and Esquire magazine wrote that zippers were the "Newest Tailoring Idea for Men."
The zipper also became famous as "Self-Help Clothing". A whole campaign was created to push the zipper among children because by wearing them, they no longer needed to be so dependent on their parents to dress them.
While the zipper is the most common fastener used today, it has continued to see some improvements, including zippers that open at both ends. The zipper is great example of showing that innovative ideas can always be upgraded as we move through different needs.
Here is something to think about: in the spirit of the zipper, what other wearable invention could make us dress faster yet be fashionable? Please leave us a comment!
---
We are exploring the Future of Fashion and Mobility to discover the features and technologies that these two disciplines have in common and how they shape what's next. Please keep an eye on our chapters and on the full content of The Future Fashion and Mobility Trend Report. If you would like to read the entire report now, please contact us via hello@thepowerhouse.group